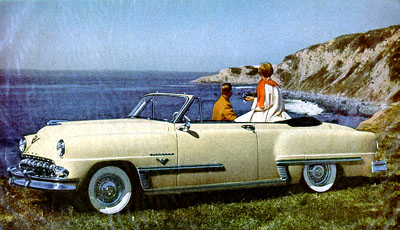 Photography, including color photography, had been used by DeSoto since the Twenties.

Although wrinkled with age, this 1953 magazine promotion still shines with DeSoto's new-for-1953 beauty. The copy stressed DeSoto's effortless driving thanks to the hemi-head V8 engine and power steering.

Curiously, this ad asks the prospective buyer to ask about DeSoto Airtemp air-conditioning, a luxurious option thought to have been introduced at DeSoto in 1954.

Wirewheels and scarf optional.