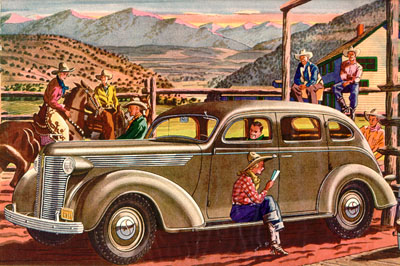 The new colossus was called the biggest DeSoto ever built - yet DeSoto claimed big economy.

This colorful, full-page magazine ad boasted, "NOW reports are pouring in! 'Getting 17 to 21 miles a gallon in hard city driving'...'In 8,576 miles my average is 20.3 on regular gas!'...'Best gas and oil mileage I ever had on a car!'

"Owners have proved it! This new car...biggest DeSoto ever built...costs even less to run!"

Yee haw! Gidee up, DeSoto!