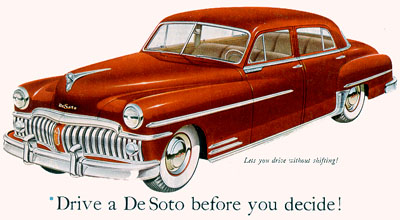 DeSoto used many slogans throughout its long life: "America's Smartest Low-Priced Car," "America's Family Car," and finally, "Drive a DeSoto before you decide!" The last would be the most famous thanks to Groucho Marx.

In 1950, your DeSoto-Plymouth dealers sponsored "You Bet Your Life" featuring Groucho Marx, who would wax poetic over his sponsor's product. Usually at the end of program, Groucho would issue the command.

When this '50 Custom was new, at least 133,854 drivers obeyed. That's how many DeSotos were built for this record-breaking model year.