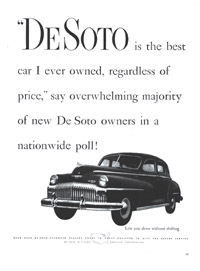 1947 advertisement
When civilian automobile production resumed late in 1945, customers returned the favor of DeSoto's patriotism by flocking to its show rooms. "Demand," said DeSoto, "is so great that in spite of all our efforts some delay may be necessary before your dealer can make delivery to you."
Material shortages and labor strife contributed to DeSoto's inability to fill orders. However, it was true that a segment of car starved America didn't just want new cars, it wanted new DeSotos. 1946 DeSoto promotions joyfully bragged "8 out of 10 want DeSoto again." The boast was based on a survey of 1941 and 1942 DeSoto owners.
Demand peeked with the 1950 DeSoto.
1950 DeSotos were handsome machines with wide chromium grins and strong correct lines. They were huge cars, bigger than Mercurys, Pontiacs, Oldsmobile 88s, Buick Supers, and the Packard Eights. There was even a new model to strut DeSoto's many virtues, the Custom Sportsman hardtop coupe.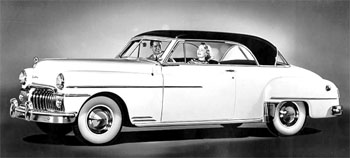 1950 DeSoto Custom Sportsman
Hardtops are virtually unknown today, but they were a profitable phenomenon during the fifties. By definition, a hardtop is a car with a steal top in the manner of a sedan, but lacking door posts. They were, in essence, convertibles with non-retractable solid tops. The body style provided a better view from the inside and made even the biggest American cars appear sportier on the outside.
Like General Motors' hardtops, DeSoto's Sportsman delivered a special look. Its wrap around rear window and "V" shaped rear roof pillars created a care-free character that had previously been found only in DeSoto convertibles. The Sportsman also came standard with wide whitewall tires, full wheel covers, and exclusive interior details.
DeSoto's Sportsman shared many curious characteristics with other Custom models. For instance, the majestic bust of Hernando deSoto on the hood could be fitted with a carefully detailed plastic face. Behind Hernando's stern expression was a small bulb that illuminated the Spaniard whenever dash lights and headlights or parking lights were turned on. The dash lights themselves were unusual. Concealed bulbs in dark glass spheres set the control panel's pale green numerals aglow with an unearthly purple glimmer.
Aside from its premier pillarless car, DeSoto's other 1950 talking points were roomy interiors with chair high seats and DeSoto's smooth ride. One advertisement showed an enthusiastic DeSoto passenger asking the proud driver, "New road?" To which was replied, "No, new DeSoto!"
Sales rocketed 42% over 1949 and production reached a record setting high of 133,854. Never had DeSoto moved so many cars during a model year. Unbeknownst to DeSoto, it never would again. DeSoto sailed into a doldrums from which even the new 1952 FireDome V8 couldn't rescue it.