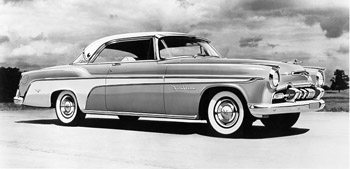 1955 DeSoto Fireflite Sportsman 2-door
DeSoto suddenly changed in 1955; so much so even Betty Grable was forced to stop and stare. She and husband Harry James, with Groucho Marx hiding in the backseat, appeared on national television extolling the virtues of the "Styled for Tomorrow" '55 DeSoto. "Jumping Citations!" exclaimed horse enthusiast Harry at his first glance. "It ought to be great in the stretch. I know a thoroughbred when I see one." Betty agreed, and explained to her husband that the new top-line Fireflite's V8 was the equivalent of 200 "Native Dancers."
DeSoto had power styling to go with its hemi power. DeSoto was longer, wider, and sleeker than any previously. It was also more colorful. DeSoto Fireflites and Firedomes could be dressed up with enormous, fang-shaped color panels that were standard on the Fireflite convertible and hardtop. DeSoto even introduced one of the earliest three tone paint jobs on the 1955 Cornando spring special. The loaded $3,151 sedan was resplendent in white, turquoise, and black.
DeSoto was equally new on the inside. PowerFlite automatic was operated by an intriguing Flite-Control lever mounted on the dashboard. The dashboard was dramatically styled with a dual cockpit gull wing theme. Even the view out was improved with DeSoto's first wrap around windshield.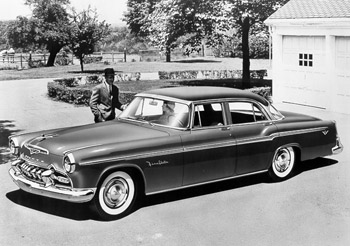 1955 DeSoto Fireflite
Riding in a '55 DeSoto was an experience. The engine was whisper quite and the ride super smooth. There seemed to be miles between the driver and front seat passenger. Everywhere, there was quality whether it was the Fireflite Sportsman's leather upholstery or the Firedome's glossy dashboard. A '55 DeSoto was sure to please even the most jaded consumer.
Of course, sales were high. 114,765 DeSotos found happy owners for the 1955 model year. The calendar year total of 131,753 was the best since 1946.
Then something curious happened. The auto industry experienced a significant downturn in 1956. Oldsmobile lost over 97,000 sales, Buick more than 100,000 and Pontiac nearly 150,000. At Chrysler Corporation, Dodge sales eased by 36,000 cars and Chrysler sales by 24,000. DeSoto, however, built nearly as many cars in 1956 as it had in 1955. Model year production totaled 110,418, only 4,347 cars fewer than '55. To top it off, more DeSotos than Chryslers were registered that year and DeSoto climbed to 11th place in the industry. Regardless, five years later DeSoto would be canceled.
The dynamics of DeSoto's demise were already in motion. Top management at Chrysler Corporation suggested Chrysler drop its bottom line Windsor to allow more room for DeSoto. Chrysler protested. Since 1946, Chrysler had fostered its low end products and by 1956 was dependent on the 2/3s volume provided by Windsor. Besides, Chrysler no longer had the option of moving up-market. The majestic Imperial was jettisoned in 1955 as a separate make to compete alone with Cadillac and Lincoln. Having already put itself in a difficult place, Chrysler would make no concession to DeSoto.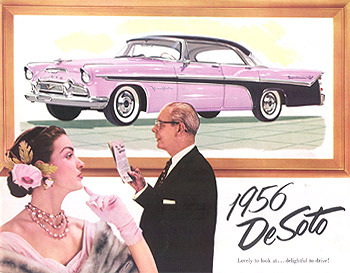 1956 DeSoto Fireflite Sportsman 4-door
In '56, it appeared DeSoto didn't need Chrysler's charity. The line was DeSoto's most formidable ever with new tailfin styling, DeSoto's first four door hardtop, and a fiery high performance two-door called Adventurer.
Like a brilliant avenging angle with her wings out stretched, the golden Adventurer stormed into the horsepower race. The finned hardtop colossus scorched Daytona Beach at 137 miles per hour, and surged through Chrysler's Chelsea Proving Grounds banked oval at 144 miles per hour. It even leapt the height of Pike's Peak serving as pace car for the year's competition climb. Nothing from the opposition, not the Thunderbird, Corvette, or Studebaker's Golden Hawk, could match the Adventurer's enormous power and high top speed.
Adventurer's motivation was an enlarged DeSoto hemi sized at 341.4 cubic inches. Horsepower was rated at 320 which was more than any other engine offered in DeSoto's price class.
Adventurer achieved its stunning performance without sacrificing luxury. Standard equipment included push button control Powerflite automatic, power steering, power seat, power windows, power brakes, windshield washers and electric clock. On top of these, the Adventurer delivered a custom interior with padded dash, dual rear view mirrors and dual radio antennas atop the fins.
As was true with legions of DeSotos before it, the Adventurer was a lot of car for the money. It came with more glitter, more features, comparable performance, and a marginally better power to weight ratio than the base Chrysler 300. Yet, the DeSoto cost $567 less. In six weeks following the Adventurer's February 18 introduction, all 996 examples built sold at $3,678 a piece.
In a rare extroverted moment, DeSoto flaunted its many virtues by pacing the 1956 Indianapolis 500. The DeSoto chosen for the duty was a shimmering gold and white Fireflite convertible decorated with Adventurer trim. While most onlookers mistook the modified Fireflite to be an Adventurer convertible, they couldn't mistake the brand. "DeSoto" was painted on the doors in large block letters and signs on the raceway proudly declared "DeSoto Sets the Pace."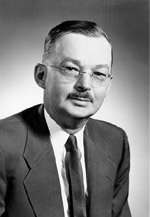 Irv Woolson
DeSoto's slogan was no joke. The DeSoto pace car was a fire-breather equipped with the Adventurer's engine. With DeSoto Division president L. Irving Woolson at the wheel, the DeSoto pace car broke all previous pace car lap speed records. The convertible was doing better than 100 miles per hour when it left the racers.
The exotic Adventurer aside, the DeSoto Fireflite came with more standard horsepower than most cars in its category. At 255hp., the Fireflite V8 was more robust than anything from Mercury, Oldsmobile, or Pontiac, and equal to Buick's biggest engine. Zero to 60 took an effortless 10.9 seconds and the top speed was 110 miles per hour.
Back in the fifties, automotive evolution progressed at a frantic pace with car manufactures bringing out new models every two or three years. DeSoto was due for something new in 1957, but no one could have predicted how new the '57 DeSotos turned out to be.
1957 DeSoto television commercials merrily sang, "The most exciting car today is now delighting the far highway. It's DELOVELY! It's DYNAMIC! It's DeSOTO!" The jingle didn't exaggerate. The 1957 DeSotos were amazing cars, perfect for the space age.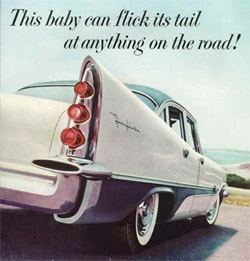 1957 DeSoto Fireflite
In fact, the new DeSoto had every appearance of being able to fly. Huge tail fins soared majestically from the rear fenders and terminated at a set of triple lens rocket launcher taillights. An illusion of jet propulsion was created by dual oval exhaust ports in the back bumper. On cold mornings, DeSotos left convincing vapor trails.
Credit for DeSoto's appearance goes to Virgil Exner, Chrysler Corporation's head stylist and perhaps the post war era's most gifted designer.
Unlike other cars of the day, the '57 DeSotos were slim. They were fascinating visions of an aerodynamic future. The fins actually served a purpose. They increased stability at high speed and reduced the effects of wind buffeting.
Stability was more important that ever, for beneath the '57 Adventurer's sleek new hood was America's first standard equipment engine producing one horse power for every cubic inch of displacement. Three hundred and forty-five horses bolted from 345 cubic inches at 5,200rpm.
Those horses were harnessed to Chrysler Corporation's new TorqueFlite three speed automatic transmission. Though the unit was among the best in smoothness of operation and efficiency, it was the futuristic push-button controls that kept America talking. It seemed almost insignificant that DeSotos also came with Torsion-Aire torsion bar front suspension - a giant leap forward in riding comfort and handling.
The 1957 DeSoto line was the biggest in the make's then 28 year history. The DeSoto Adventurer became available as a convertible as well as a hardtop. Station wagons appeared in the Fireflite series. A new Firesweep nameplate was added at the bottom of the DeSoto price ladder. Firesweep offered three cars costing less than $3,000 in addition to DeSoto's least expensive wagons.
DeSoto's triple punch of styling, performance, and price made 1957 a memorable model year. As sales at Buick, Oldsmobile and Pontiac plummeted, DeSoto gained by 7,096 units. 117,514 DeSotos were built for the model year.
'57 was a good time for DeSoto. It was also a tragedy. Corporate wide quality control problems resulted in some horribly built cars. It's said that DeSoto four door hardtops built at Los Angeles leaked so badly in the rain that occupants were wise to exit the car to avoid drowning. One 1957 DeSoto Adventurer was incapacitated for four of the total 18 months it was owned by its first owner. The car went through four transmissions, three power steering units, two new double point distributors, new valve guides and a new radiator. Reportedly, it took considerable effort and the attention of Chrysler's Chairman of the Board to have the car corrected.
Stories like these and a propensity for early rust out angered DeSoto's traditional clientele. DeSoto had always been a well-built car until 1957. Worse, those who had never bought a DeSoto before and were seduced by the styling resented the car's inability to live up to appearances.
Quality control was a problem throughout Detroit in the late fifties. However, the sin seemed greater at DeSoto in light of the make's previous high standards.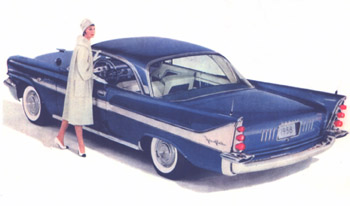 1958 DeSoto Fireflite Sportsman
Predictably, customers didn't return to DeSoto show rooms for 1958. Making matters worse was a recession. Unemployment topped 5.1 million meaning fewer people could afford a new DeSoto. Indeed, better mid-priced cars were sorely hit. General Motor's B-O-P trio declined for the third straight year. The new Edsel, Ford Motor Company's naive foray into Dodge and Pontiac's territory, met a cold 63,000 unit reception amidst enormous publicity. Mercury too declined. Hudson and Nash were gone all together.
DeSoto delivered an improved product that year. The cars were consistently better built. A lighter weight, less expensive wedge-head V8 replaced the heavy, complicated hemi. Performance increased. A DeSoto Firedome with the optional 305hp., 361 cubic inch V8 flew from zero to sixty in 7.7 seconds. Top speed was 115 miles per hour.
Ironically, as DeSoto struggled to regain buyers, the high profile Adventurer embarrassed itself with an engineering blunder. For $637.20, performance enthusiasts could boost the Adventurer's 345hp. to 355hp. via Bendix electronic fuel injection. Though futuristic, the system proved nearly inoperable and most all Bendix EFI cars were recalled and fitted with dual four barrel carburetors. The unfortunate occurrence gave ammunition to those who found the wedge-head engine an inadequate successor to the hemi.
As DeSoto production dived nearly 70%, Chrysler Corporation panicked. DeSoto was unceremoniously yanked from the Wyoming Ave. assembly plant it had occupied since 1936. From July 1958 forward, senior DeSotos would be built along side Chryslers on Jefferson Ave.
If management was ready to write off DeSoto, the styling department wasn't. In May of '59, a radical prototype emerged from Virgil Exner's "back room" studio. It was a convertible with an aggressive new interpretation of the Forward Look. The hood was noticeably longer than the trunk and accentuated by menacing fender blades. It had no fins, but rather sculpted quarter panels and a smooth sloping trunk. Significantly, the nameplate on the hood proudly read "DeSoto." The concept was dubbed the S-series and approved for the coming 1962 model year change. Chrysler's other brands were instructed to take their inspiration from the new DeSoto.
Meanwhile, DeSoto offered its most flamboyant cars ever. 1959 Firesweeps, Firedomes, and Fireflites were available in any of twenty-six solid colors or 190 two-tone combinations. All DeSotos wore a triple air scoop front bumper along with a fine mesh grill. The Adventurer, complete with gold sweep spears and chrome streaks on the trunk lid, provided swiveling front seats to make entry and exit from the low ridding performance car easier.
For all the glitter, 1959 was a dubious year production wise. Almost 6,000 more DeSotos were built for the calendar year, but model year production fell again. At 45,724 cars, DeSoto was one of only two manufacturers to score lower sales in 1959 than in 1958. Simultaneously, DeSoto celebrated its thirtieth anniversary and built the two-millionth DeSoto.