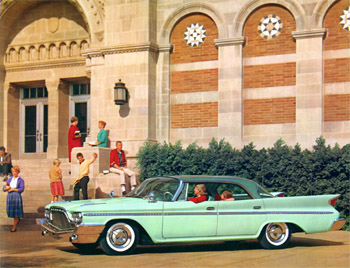 1960 DeSoto Fireflite 4-door hardtop
The 1960 DeSoto line-up told the tale.
The Firesweep and venerable Firedome lines were dropped. Station wagons and convertibles disappeared. The once glamorous limited edition Adventurer was demoted to Fireflite status. Fireflite in turn was pushed down to replace Firedome.
Although they were few, the 1960 DeSotos were good. Both Fireflite and Adventurer boasted Chrysler Corporation's new Unibody construction. Along with Unibody came sounder build quality and an elaborate seven step rust proofing process.
Drivetrains remained exemplary.
Newly optional was a Ram Charge V8. The 383c.i.d motor utilized twin four barrel carburetors perched atop ram induction tubes. The tubes accelerated intake velocity at certain R.P.M. creating a turbo-like horsepower boost. The induction system was matched by dual exhausts. DeSoto thoughtfully provided 12 inch brakes.
The Ram Charge option was available only on the Adventurer, which already delivered 305hp. Fireflite customers had to be content with 295hp.
At the corporate level, scandal hinted at the mismanagement that debilitated DeSoto. William C. Newberg, who had been with Chrysler for nearly 30 years, became president of Chrysler Corporation April 28, 1960 when L. L. "Tex" Colbert stepped down. That June, Colbert's carefully groomed successor was fired by Chrysler's Board of Directors. It was alleged Newberg had a "conflict of interest" at Chrysler, namely financial holdings in companies which supplied Chrysler Corporation. Newberg's removal was followed by other resignations and a year-long battle.
The primary victim was DeSoto. As Chrysler collapsed on itself, the stunning S-series DeSoto prototype and its Chrysler offshoots were canceled. Suddenly, DeSoto had no future.
Sales of the 1960 models were understandably low. Chrysler Corporation had done everything possible to weaken DeSoto's position. For the 1960 model year, 25,581 were built. It was the worst model year since 1934, but it wasn't the last. Half-heartedly, a 1961 DeSoto was introduced October 14, 1960. Set up to fail, it was the last DeSoto.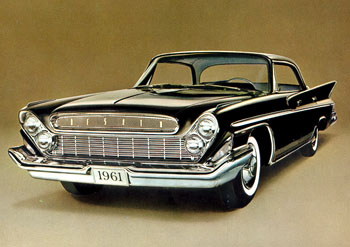 1961 DeSoto 4-door hardtop
The '61 model wasn't granted the courtesy of a model name. It was simply dubbed DeSoto. What buyers existed were given a choice of only two body styles - a two door hardtop and a four door hardtop. Both wore full length chrome spears along their sides and shared a uniquely styled front end. They held little visual link to past DeSotos though the name was prominently displayed in the upper secondary grille and along the trunk lid.
Like the 1960 model before it, the last DeSoto used a 122 inch wheel base, the same span used by full size Dodges. The dash board, with its three tier design and raised speedometer, could be traced back to Dodge. Even the engine, with an uninspiring 265 horses, came from DeSoto's less prestigious sibling. The days of lanky 126 inch wheelbases and sparkling performance were clearly over.
In its oddly beautiful '61 dealer brochure, DeSoto made one final, rambling plea:
"For 1961, DeSoto proudly presents a fine new car. It is a car rich in traditional DeSoto quality, fresh in the way it looks and performs. It puts into your hands the most all-around value in its price class. The 1961 DeSoto is not a former middle priced car scaled down in any way to attract the mass of low priced car buyers. Nor is it for those who are willing to pay a premium for a status symbol. Rather, the 1961 DeSoto has been deliberately designed for a particular kind of person who appreciates the additional roominess, the distinctive refinements and the reassuring "feel" of an automobile in DeSoto's class. It offers all these things, in superior measure, at a price you will find surprisingly low. Surely, the 1961 DeSoto has much to offer you. In this brochure, you will find some of the reasons you should look into this new car. Your Plymouth-DeSoto dealer will show you many more."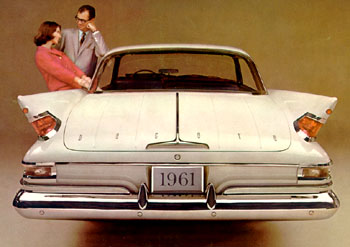 1961 DeSoto 2-door hardtop
Then there was silence.
After 32 years, DeSoto production came to a halt November 30, 1960. Dealers were notified by telegram.
Some people still wanted DeSotos.
In New Jersey, nine DeSoto dealers, angered by DeSoto's sudden cancellation, filed suit against Chrysler Corporation for breach of the Direct Dealer Agreement and malicious interference with a business relationship. Years later, the DeSoto dealers won their case.
In Wedell, Idaho, a man bought one of the last '61 DeSotos left in stock. His father had always bought DeSotos, and now was the son's last chance to carry on the tradition.
DeSoto was done, or was it?