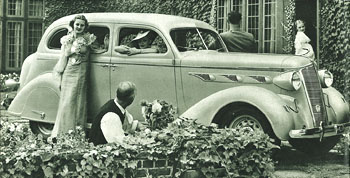 1936 DeSoto Airstream Custom
DeSoto's conservative turn was rewarded. Sales nearly doubled for 1935 thanks to enthusiasm for the Airstream. DeSoto was given its own production facilities in 1936 and sales climbed again by more than ten thousand cars. On the strength of a handsome 1937 re-styling, production more than doubled to 81,775 moving DeSoto from 13th to 12th in the industry. For the first time since 1933, DeSoto outsold Nash.
By 1939 DeSoto was ten years old and a new member of the industrial establishment. Parent company Chrysler Corporation was now the second largest automobile manufacturer in the United States, perhaps the world. Chrysler had won the position thanks in large part to the strength of its mid-priced cars like DeSoto. Time had come to flaunt the spoils.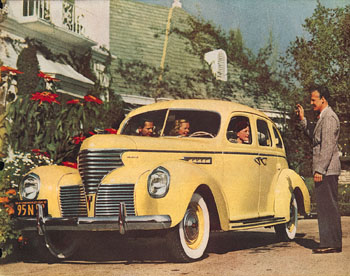 1939 DeSoto Custom
"The extent of design changes and improvements in the 1939 DeSoto," said a '39 press release, "indicated the lengths to which the Chrysler Corporation has gone to stimulate new car buying. As a part of Chrysler Corporation's $15,000,000 program for new dies and retooling of the 1939 models, several million dollars were spent on the new DeSoto body alone."
Maybe that's why DeSoto called the new look Hollywood Style.
"Ginger Rogers," claimed one DeSoto advertisement, "drives Hollywood's smartest car - DeSoto!" "I like action!" Ginger supposedly said. "I get it in my DeSoto."
Ginger didn't need any help, but the '39 DeSoto was a looker. Those slippery curves that had made the Airflow distinctive were back with a new finesse. Sedans were fastbacks. All models featured curvaceous fenders blown taught by an unfelt wind. Up front was a tall prow suitable for an ocean liner, and enough chrome to blind on-coming drivers.
A new, haute couture Custom Club Coupe by Hayes wore the new styling best. The Club Coupe featured enlarged side glass, narrow door pillars, and a unique roofline distinguished by a two-piece rear window and a central character line.
Price for the Custom Club Coupe was a lofty $1,145, and production was just 264 cars.
Engineering had not been neglected. New for 1939 was "Handy-Shift", a gear shift lever mounted on the steering column, which controlled a "Syncro-Silent" three-speed transmission with optional overdrive. Moving engine parts now had "Superfinish" which increased part life, improved efficency, and reduced oil consumption.
More light-hearted advances were the "Safety Signal" speedomater that changed color with speed, and the adjustable front seat that raised while it moved forward.
The 1939 was well received. 54,449 were built.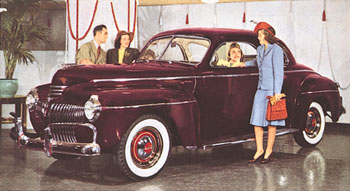 1941 DeSoto Custom club coupe
In 1941, DeSoto found the styling hallmark that would define the make for all time. New "Rocket" bodies wore beautiful waterfall grills. The frontal theme would remain a DeSoto trademark through 1955. Indeed, it would be the toothy DeSoto grins of the early Fifties that motorists would recall most fondly.
1941 also brought an engineering feature famously associated with DeSoto, the semi-automatic transmission. New to the options list was Simplimatic, DeSoto's version of a four speed transmission shared with Chrysler. DeSoto promotions happily informed prospective customers there was "no need to shift or use the clutch, You're in a new DeSoto!" Simplimatic came close to a true automatic in driver operation. Close enough, in fact, that DeSoto used the transmission with minor improvements through 1953.
To get underway, the driver used the clutch to shift the gear lever into "high." Then, he merely pressed the accelerator. If conditions permitted, the driver eased his foot from the gas around 14m.p.h. allowing Simplimatic to shift from 3rd to 4th. Coming to a light, Simplimatic shifted back down independently and the Fluid Drive coupling made sure there was no stalling and no need to clutch. As DeSoto stressed, the operation could be performed hundreds of times with a minimum of effort.
If a Simplimatic DeSoto owner wished to make a quick get away, he used the clutch to place the lever in "low." Stomping the accelerator produced substantial engine noise and tire spin, which continued as long as the operator could bear. He then lifted his foot and let Simplimatic shift from first to second. To cruise comfortably, the clutch was pressed in and the lever returned to "high" where an alert Simplimatic was automatically in fourth gear. If another car was threatening to pass at a monstrous 40m.p.h., Simplimatic could be kicked into passing gear with a jab of the accelerator. The 100hp. six, however, would be exhausted at 90m.p.h.
The appeal of Simplimatic and DeSoto's new smile surely helped production reach the 99,999 cars built. One wonders what held back that extra DeSoto to make it an even 100,000.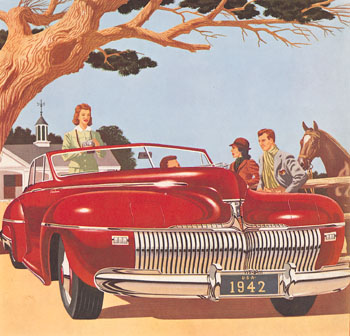 1942 DeSoto Custom convertible
The end of civilian car production was in sight when "The New Yorker's" "Motors and Motoring" column praised DeSoto's new 1942 Airfoil headlamp covers. The entire frontal treatment, including low-lying, waterfall grill, was described as having "a solid well-knit look." The magazine also pointed out Chrysler Corporation's whitewall trim rings offered in lieu of increasingly hard to find white wall tires.
Matters of style such as these became insignificant after December 7th. Japan bombed Pearl Harbor and the United States went to war.
A conquistador at heart, DeSoto enthusiastically joined the war effort. DeSoto factories put civilian production aside February 9 and commenced building Sherman tank parts, Martin B-26 Marauder fuselage sections, B-29 Superfortress nose sections, Navy Helldiver wing sections, and Bofor anti-aircraft gun parts.
On the home front, a '42 DeSoto toured the country selling war bonds.